Andrew Matthews with a picture of his red dog, Buddy. Picture: Brendan McCarthy
Addy photographer Brendan McCarthy has a catch phrase where he asks his subjects to think of winning Tattslotto. It gets a smile for the camera every time.
Andrew Matthews says a lottery win would be great; he'd use the cash to fund his business ideas.
"You'd still be at work?" asks Brendan.
"Oh yes, you've got to be here. You've got to do it," Andrew says.
For 20 years this Bendigo furniture maker has been "just quietly plodding along in the background".
This year, he's vying for an innovation award through the Bendigo Inventor Awards.
Over the past few years Andrew has taken his bespoke business, Red Dog Furniture, to a whole new level of sustainability.
With the 'buy local' ethos in mind Andrew is taking felled and fallen trees from Bendigo, milling and drying the timber at his local factory, and turning them into one-off pieces.
What's not suitable for furniture gets used for other products like fence posts and bollards.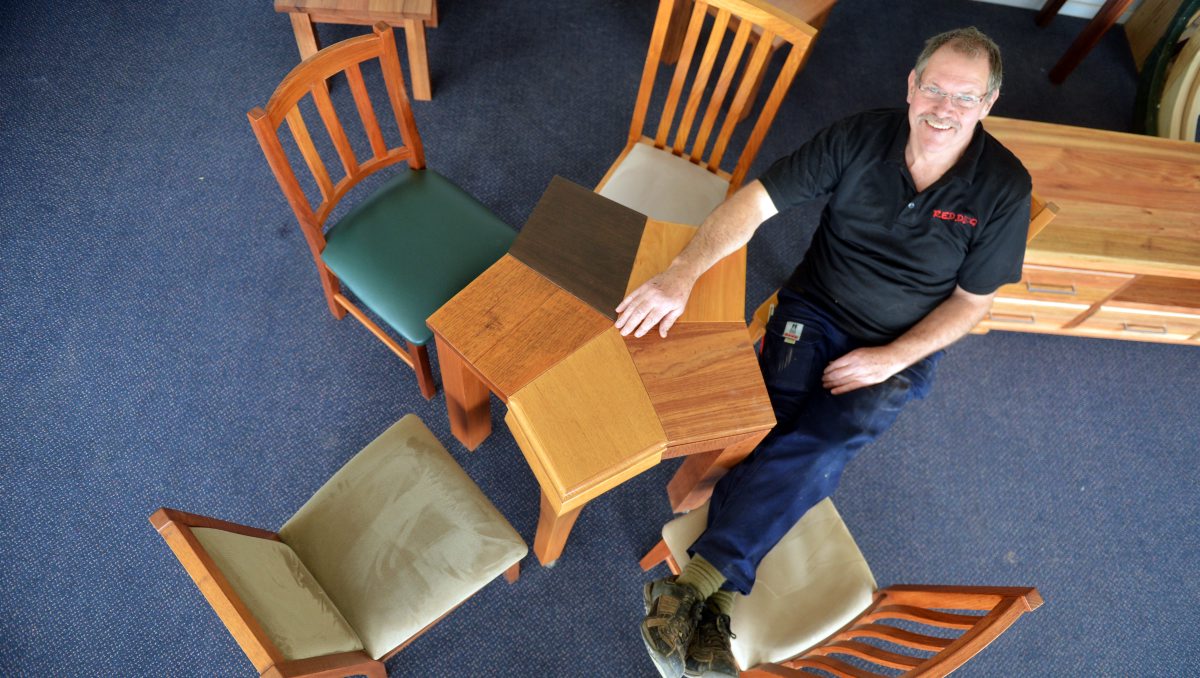 "It's about not being wasteful with what we've got," Andrew says, adding most of this would be otherwise burnt or discarded.
Slumbering in the Red Dog factory right now are slabs of Norfolk Island pine, hoop pine and West Australian karri, all from properties and streets around Bendigo.
And then there's the local ironbark.
Furniture maker Mark Brazill, who works with Andrew, is currently preparing a piece of ironbark for use. It came from a very old tree around Bendigo that was removed for safety reasons.
"To see our native ironbark and red gum, you can't beat the colour in them. They're pretty impressive," Mark says.
Mark considers himself spoilt working with timbers like this on one-off pieces.
"It's pretty rare," he says.
"With our disposable society these days people are too quick to buy that flat pack and if it falls apart in 12 months, so be it, they just go and buy a new piece because fashions change.
"The customer who wants a one-off, lasting piece is still there, but they're few and far between.
"To get that appreciation back for furniture would be a nice thing."
He says there's something special about working with timbers from trees that have lived out their lives locally.
"It definitely adds an interest to the piece. It's not just a piece of furniture anymore, it's got a story," he says.
Talk about stories. The ironbark in question will be used to re-build a 1915 horse-drawn wagon sitting in bits and pieces on the workshop floor.
The wagon was donated to the Bendigo RSL, which has enlisted Andrew and Mark to breathe life back into the treasure.
"We're going to re-build it for them, with help from a specialist, and it's all being done with ironbark trees from around Bendigo," Andrew says.
"All Bendigo wagon makers worked with ironbark.
"It's a hard timber. But then that's what makes it interesting, isn't it.
"It's pretty rare to get an ironbark that big.
"During the mining days a lot of ironbarks were cut down for firewood because that's all they had to use.
"Now we're hoping to do a lot more with them."
The innovations at Red Dog Furniture don't stop with the timbers. Andrew is working to introduce new, sustainable ideas into the business.
For the past 12months he has been researching how to convert sawdust into a power source.
He says by turning the dust into pallets he should be able to convert them into gas for fuel.
"I've got plans for the gas unit but pelletising the sawdust to go into the unit is not energy efficient, so I've got to come up with a different way," he says.
"This is not just for us.
"If we can make this work, we can help others.
"Ten per cent of a tree is good for furniture timber, the rest can go into fence posts or the council can cut bollards out of their own trees."
And the rest can potentially be used for energy.
"I've been researching it for 12 months but you've got to have the cash to do these things, that's the hardest bit," he says.
Tattslotto ticket, anyone?
Long before a certain kelpie from Dunolly made the name Red Dog famous, another pooch was making his mark on a factory in Bendigo.
Andrew Matthew's furniture business was named after his red heeler, Red Dog.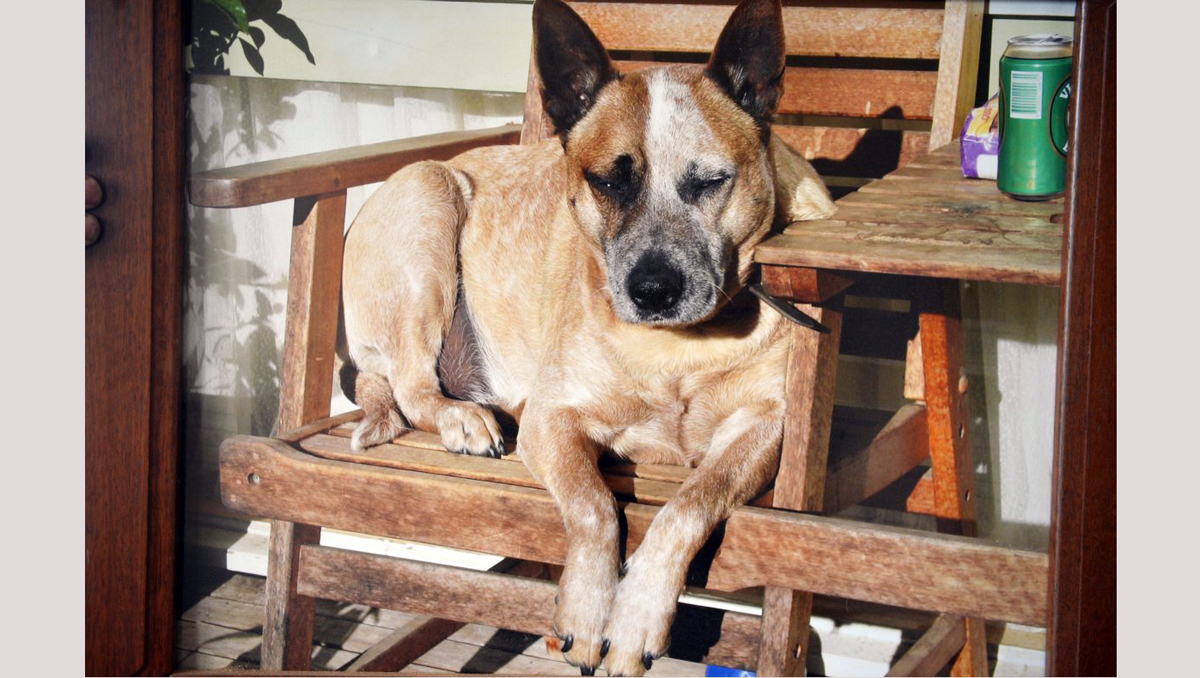 "I accidentally came across this red heeler pup," Andrew says.
"My brother had it in a flat in Melbourne and it was not the right place for it, so I took him home to Bendigo.
"He came to work with me everyday – he ran the workshop.
"If you weren't where he wanted you to be, he'd move you on.
"He was full of attitude, the old bugger."
Andrew lost his old mate 12 months ago and his portrait now hangs in the Golden Square showroom (pictured above).